Una lectura biorregional de los paisajes rurales de las zonas interiores italianas y el potencial regenerativo del turismo rural. El caso del proyecto VENTO
Palabras clave:
Enfoque biorregional, paisaje rural, abandono, desarrollo local endógeno, capital territorial
Resumen
Hablar de abandono significa hablar de territorios frágiles que necesitan un proyecto de regeneración territorial. En este artículo, el fenómeno del abandono se convierte en una oportunidad para identificar relaciones entre recursos no utilizados, dinámicas antrópicas y paisajes originales. El biorregionalismo se propone como un posible enfoque teórico que guíe las acciones del proyecto, revele y mantenga unidos los recursos tangibles e intangibles e identifique la escala espacial más adecuada para la regeneración de los territorios despoblados. El proyecto VENTO, una ruta ciclista de 780 km, financiada por Ministerios italianos, que conecta el norte de Italia, se convierte en un estudio de caso para investigar el potencial de la línea lenta para ser un proyecto biorregional.
Descargas
La descarga de datos todavía no está disponible.
Citas
Aberley, Doug (1993), Boundaries of Home: Mapping Local Empowerment, Gabriola, British Columbia, New Society Publisher.

Agenzia per la Coesione Territoriale (2013), "Strategia Nazionale delle Aree Interne". Available at: http://old2018.agenziacoesione.gov.it/it/arint/ (accessed: 05-04-2020).

Alexander, Donald (1990), "Bioregionalism: Science or sensibility?", in Environmental Ethics, vol. 12, nº 2, pp. 161-173. DOI: https://doi.org/10.5840/enviroethics199012217

Barbero, Amilcare & Giorcelli, Marco (2002), Camminare il Monferrato. Guida al trekking in Monferrato in 40 percorsi. Villanova Monferrato, Editrice il Monferrato.

Becattini, Giacomo (2000), Ritorno al territorio, Bologna, Il Mulino.

Berg, Peter & Dasmann, Raymond (1977), "Reinhabiting California", in The ecologist, nº. 7(10).

Berg Peter (1978), Reinhabiting a separate country. A Bioregional Anthology of Northern California, San Francisco, Planet Drum Foundation.

Bevilacqua, Piero (2013), "Una nuova agricoltura per le aree interne", in Ritorno alla terra. Scienze del Territorio, vol. 1, pp. 159-164.

Bookchin, Murray (1976), Toward an ecological society, Atlanta, Black Rose Books.

Cawley, Mary & Gillmor, Desmond (2008), "Integrated rural tourism: concepts and practice", in Annals of tourism research, vol. 35, nº. 2. DOI: https://doi.org/10.1016/j.annals.2007.07.011.

Church, Sarah P. (2014), "Exploring Urban Bioregionalism: a synthesis of literature on urban nature and sustainable patterns of urban living", in Surveys and Perspectives Integrating Environment and Society, vol. 7, nº. 1.

Commission of the European Communities (1996), The Cork Declaration: A Living Countryside, European Conference on Rural Development, Cork, Commission of the European Communities.

Costanza, Robert -coord.- (1997), "The value of the world's ecosystem services and natural capital", in Nature, nº. 387, pp. 253-260.

Costanza, Robert & Daly, Herman (1992), "Natural Capital and Sustainable Development", in Conservation Biology, vol. 6, nº. 1, pp. 37-46, DOI: https://doi.org/10.1046/j.1523-1739.1992.610037.x.

Countryside Agency (2003), Rural economies: stepping stones to healthier futures, Cheltenham (UK), Countryside Agency.

Dezio, Catherine & Longo, Antonio (2018), Definizioni, significati e geografie plurime della Bioregione, Quaderno di Bioregione – Politiche territoriali, Fondazione Cariplo.

European Commission (2003), "Planting seeds for rural futures - building a policy that can deliver our ambitions", European Conference on Rural Development, Salzburg. Available at: http://ec.europa.eu/agriculture/events/salzburg/index_en.htm (accessed: 05-04-2020)

European Environment Agency –EEA– (2004), Annual Report, Publications of the European Communities.

Fanfani, David & Saragosa, Claudio (2011), "Il bioregionalismo nelle esperienze italiane ed europee", in Il progetto sostenibile, nº. 29, pp. 22-29.

Farinelli, Franco (2003), Geografia. Un'introduzione ai modelli del mondo, Turin, Einaudi.

Ferraresi, Giorgio -ed.- (2014), Il progetto di territorio. Oltre la città diffusa, la Bioregione, Santarcangelo di Romagna, Maggioli.

Forman, Richard (2017), Town, Ecology and the Land, Cambridge (UK), Cambridge University Press.

Gambi, Lucio (1961), "Critica ai concetti geografici di paesaggio umano", in Gambi, Lucio (1961), Una geografia per la storia. Turin, Einaudi.

Garrod, Brian; Youell, Ray & Wornell, Roz (2004), Links Between Rural Tourism and Countryside Capital, Cheltenham, Countryside Agency.

Garrod, Brian; Wornell, Ray & Youell, Roz (2006), Re-conceptualising rural resources as countryside capital: The case of rural tourism, in Journal of Rural Studies, vol. 22, nº. 1, pp. 117–128, DOI: https://doi.org/10.1016/j.jrurstud.2005.08.001.

Geddes, Patrick (1909), Città in evoluzione, Milan, Il saggiatore.

Iacoponi, Luciano (2001), La Bioregione. Verso l'integrazione dei processi socioeconomici e ecosistemi nelle comunità locali, Pisa, ETS Editore.

ISPRA (2010), Agree Agricole ad Alto Valore Naturale: dall'individuazione alla gestione, Manuali e linee guida, nº. 62.

Kropotkin, Petr (1899), Fields, factories and workshops, Boston, Houghton, Mifflin & Co.

Lane, Bernard (1994), "What is rural tourism", in Journal of Sustainable Tourism, vol. 2, nº. 1-2, pp. 7-21, DOI: https://doi.org/10.1080/09669589409510680.

Lanzani, Arturo & Curci, Francesco (2018), "Le Italie in contrazione, tra crisi e opportunità", in De Rossi, Antonio -ed.-, Riabitare l'Italia. Le aree interne tra abbandoni e riconquiste, Roma, Donzelli Editore.

Magnaghi, Alberto (2010), Il progetto locale. Verso la coscienza di luogo, Turin, Bollati Boringhieri.

Magnaghi, Aberto (2012), "Politiche e progetti di territorio per il ripopolamento rurale", in Bonora, Paola, Visioni e politiche del territorio. Per una nuova alleanza tra urbano e rurale, Bologna, Archetipo Libri.

Magnaghi, Alberto (2013), "Riterritorializzare il mondo", in Ritorno alla terra, Scienze del Territorio, nº. 1/2013, pp. 47-58.

Magnaghi, Alberto & Fanfani David (2010), Patto città campagna: un progetto di bioregione urbana per la toscana centrale, Florence, Alinea Editrice.

Meini, Monica -ed- (2018), Terre invisibili. Esplorazioni sul potenziale turistico delle aree interne, Soveria Mannelli, Rubettino Editore.

Millennium Ecosystem Assessment (2005). "Millennium Ecosystem Assessment". Available at: https://www.millenniumassessment.org/en/index.html (accessed: 05-04-2020)

Nocifera, Enzo; de Salvo, Paola & Calzati Viviana -eds.- (2011), Territori lenti e turismo di qualità. Prospettive innovative per lo sviluppo di un turismo sostenibile, Milan, Franco Angeli.

Norgaard, Richard (1984), "Coevolutionary development potential", in Land economics, vol. 60, nº. 2, pp. 160-173. DOI: https://doi.org/10.2307/3145970.

Novellini, Grazia & Soracco, Diego -eds.- (2002), Dispensa del Po. I sapori del Grande Fiume, Bra, Slow Food Editore.

OECD (1995), Niche Markets as a Rural Development Strategy, Paris, Organization for Economic Cooperation and Development.

Pazzagli, Rossano (2014), Il Buonpaese. Territorio e gusto nell'Italia in declino, Ghezzano, Felici Editore srl.

Pavione, Enrica -ed.- (2016), Turismo sostenibile e valorizzazione del territorio. Sfide e opportunità di sviluppo del cicloturismo in Italia, Ariccia, Aracne Editrice.

Pileri, Paolo; Giacomel, Alessandro & Giudici, Diana (2015), VENTO. La rivoluzione leggera a colpi di pedale e paesaggio, Mantua, Corraini Edizioni.

Pileri, Paolo -coord.- (2018), Ciclabili e cammini per narrare territori, Portogruaro, Ediciclo Editore.

Poli, Daniela & Gisotti, Maria Rita (2019), "Le regole dell'arte di costruire le città e i servizi ecosistemici del territorio intermedio bioregionale", in Territorio, nº. 89, pp. 123-129. DOI: https://doi.org/10.3280/TR2019-089016.

Rete Rurale Nazionale 2014-2020 (2017), Multifunzionalità agricola e agriturismo. Scenario e prospettive, Report annuale ISMEA.

Rete Rurale Nazionale 2014-2020 (2018), "Indicatori di contest". Available at: https://www.reterurale.it/indicatoricontesto (accessed: 05-04-2020).

Rey Benayas, José María; Martins, Ana; Nicolau, José M. & Schulz, Jennifer J. (2007), "Abandonment of agricultural land: an overview of drivers and consequences", in CAB Reviews: Perspectives in Agriculture, Veterinary Science, Nutrition and Natural Resources, nº. 057. DOI: https://doi.org/10.1079/PAVSNNR20072057.

Reynaud, Cecilia & Miccoli, Sara (2018), "Lo spopolamento nei comuni italiani: un fenomeno ancora rilevante", in EyesReg, vol. 8, nº. 3. Available at: http://www.eyesreg.it/2018/lo-spopolamento-nei-comuni-italiani-un-fenomeno-ancora-rilevante/ (accessed: 05-04-2020).

Sale, Kirkpatrick (1985), Dwellers in the Land: The Bioregional Vision, New York, Random House.

Scudo, Gianni (2011), "Editoriale", in Il progetto sostenibile, nº. 29, pp. 10-11.

Sereni, Emilio (1961), Storia del paesaggio agrario italiano, Roma, Laterza.

Swinton, Scott -coord- (2007), "Ecosystem services and agriculture: Cultivating agricultural ecosystems for diverse benefits", in Ecological Economics, vol. 64, nº. 3, pp. 245-252, DOI: https://doi.org/10.1016/j.ecolecon.2007.09.020.

Teeb (2008), "The Economics of Ecosystems and Biodiversity". Available at: http://www.teebweb.org (accessed: 05-04-2020).

Thayer, Robert (2003), LifePlace: Bioregional Thought and Practice, Berkeley, University of California Press.

UN (2015), "Sustainable Development Goals". Available at: https://sustainabledevelopment.un.org/?menu=1300 (accessed: 05-04-2020).

World Trade Organization, World Travel and Tourism Council, Earth Council (1997), Agenda 21 for the tourism industry: towards a sustainable development.

World Tourism Organization (2001), The British Ecoturism Market, Special Report nº. 11. Madrid, Market Intelligence and Promotion Section, Sustainable Development of Tourism Section.

Zerbi, Maria Chiara (2007), Guida europea all'osservazione del patrimonio rurale – CEMAT, Milano, Guerini Scientifica.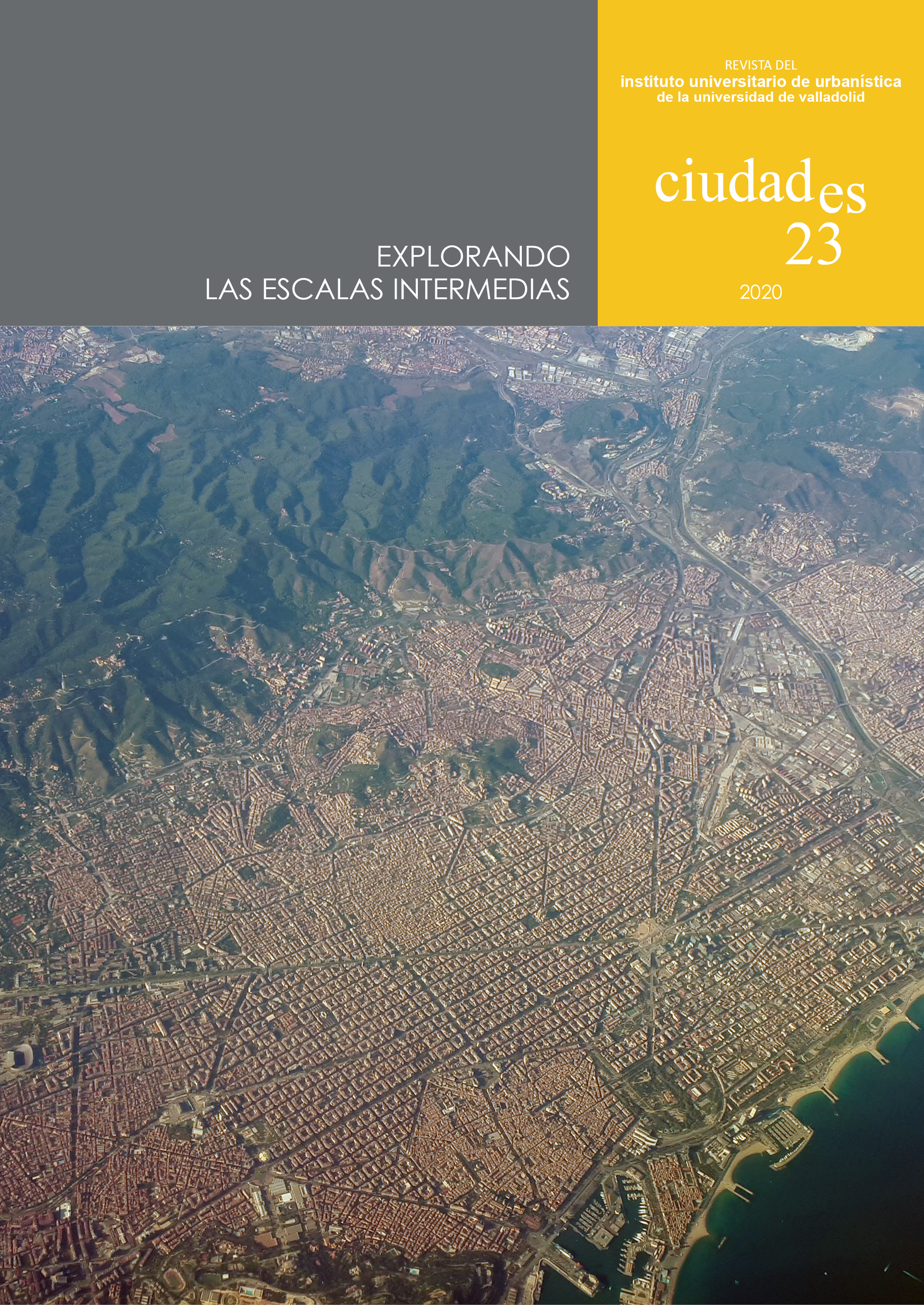 Sección
Sección monográfica
Derechos de autor 2020 Catherine Dezio
Esta obra está bajo licencia internacional
Creative Commons Reconocimiento-NoComercial 4.0
.
Todos los contenidos publicados en Ciudades están sujetos a una licencia "Creative Commons Atribución-No Comercial 4.0 Internacional" (CC BY-NC 4.0).
Atribución (Attribution): en cualquier explotación de la obra autorizada por la licencia hará falta reconocer la autoría.
No Comercial (Non-commercial): la explotación de la obra queda limitada a usos no comerciales.
Los autores continúan como propietarios de sus trabajos, y pueden volver a publicar sus artículos en otro medio sin tener que solicitar autorización, siempre y cuando indiquen que el trabajo fue publicado originariamente en Ciudades.