Post-Apocalyptic Redefinition of Homeless Spaces in Cormac McCarthy's The Road
Samuel Tascón Olmedo

Universidad de Valladolid
Keywords:
homelessness, space, place, redefinition, post-apocalipse
Abstract
Homelessness undergoes an important change in a post-apocalyptical setting: it becomes the norm, the only reality for the survivors. Through a process of defamiliarization and reinterpretation of the new reality, space goes back to its mythical sphere, where a permanent sense of anxiety and distress dominates everything. In the present paper, a new vision of homelessness in the characters and spaces portrayed in The Road is presented. Focusing on the new spatial conception will offer a fresh perspective to interpret how a father struggles in his attempts to instill in his boy a strong system of moral values while travelling through the vastness of a space without boundaries that only has one defining and common characteristic: the road.
Downloads
Download data is not yet available.
References
Augé, Marc. Non-places. Verso Books, 1995.
Bachelard, Gaston. The Poetics of Space. Penguin, 2014.
Camus, Albert. The Rebel. Penguin UK, 2013.
Castells, Manuel. The Network Society: A Cross-cultural Perspective. Edward Elgar Pub, 2004.
Cresswell, Tim. Place: A Short Introduction. Wiley-Blackwell, 2004.
Collado-Rodriguez, Francisco. Chuck Palahniuk: Fight Club, Invisible Monsters, Choke. A&C Black, 2013.
De Certeau, Michel. The Practice of Everyday Life. U of California P, 2011.
Gauthier, David J. Martin Heidegger, Emmanuel Levinas, and the Politics of Dwelling. Rowman & Littlefield Publishers, 2016.
Grossman, Jeremy R. Keeping the Lights On: Post-Apocalyptic Narrative. Proquest, Umi Dissertation Publishing, 2012.
Kunsa, Ashley. "'Maps of the World in Its Becoming': Post-Apocalyptic Naming in Cormac McCarthy's The Road." Journal of Modern Literature, vol. 33, no. 1, 2009, pp. 57-74.
Luttrull, Daniel. "Prometheus Hits 'The Road': Revising the Myth." The Cormac McCarthy Journal, vol. 8, no. 1, 2010, pp. 20-33.
McCarthy, Cormac. The Road. Vintage Books, 2007.
Nations, United. United Nations Documents Index, April - June 1999. United Nations Publications, 2005.
Rossi, Peter H. Down and Out in America: The Origins of Homelessness. U of Chicago P, 2013.
Shklovsky, Viktor. Viktor Shklovsky: A Reader. Bloomsbury Publishing USA, 2016.
Tuan, Yi-Fu. Space and Place: The Perspective of Experience. U of Minnesota P, 1977.
Walsh, Chris. "The Post-Southern Sense of Place in 'The Road'." The Cormac McCarthy Journal, vol. 6, Special Issue: The Road, 2008, pp. 48-54.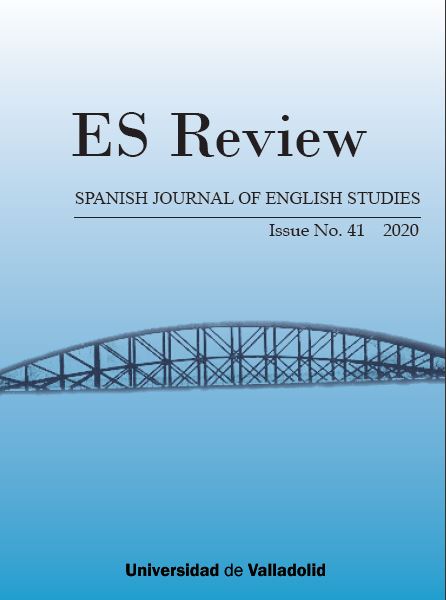 Copyright (c) 2020 Samuel Tascón Olmedo
This work is licensed under a Creative Commons Attribution-NonCommercial 4.0 International License.
The articles published at ES Review. Spanish Journal of English Studies will have a "Creative Commons Attribution-Non Commercial" (CC-BY-NC) license.
The journal allows the authors to retain publishing rights. Authors may reprint their articles in other media without having to request authorization, provided they indicate that the article was originally published in ES Review. Spanish Journal of English Studies.