"An entire past comes to dwell in a new house": Topophilia and Jeremiad in Joan Didion's Run River
Sofía Martinicorena

Universidad Complutense de Madrid
Keywords:
Didion, West, Bachelard, space, home, myth, topophilia
Abstract
In this paper, I will analyse Joan Didion's poetics of praise and mourning in her first published novel, Run River, understanding the Western landscape she presents in it as an instance of Gaston Bachelard's idea of the childhood home as a felicitous, eulogised space. I will argue that Didion's depiction of the Sacramento Valley and the struggle of the families inhabiting it to accept the changing face of the landscape results in a jeremiad narrative of the West as paradise lost. Reflecting on the limitations both of Bachelard's discussion of the childhood home and of the West as a mythographic space, I will conclude by assessing Didion's topophilia and her ambiguous stance as a Western writer.
Downloads
Download data is not yet available.
References
Bachelard, Gaston. The Poetics of Space. Beacon Press, 1994.

Bakhtin, Mikhail M. Dialogic Imagination: Four Essays. University of Texas Press, 1981.
Bercovitch, Sacvan. The American Jeremiad. U of Wisconsin P, 2012.

Brady, H. Jennifer. "Points West, Then and Now: The Fiction of Joan Didion." Contemporary Literature, vol. 20, no. 4, 1979, p. 452.

Didion, Joan. Run River. Vintage, 1994.
Didion, Joan. Slouching Towards Bethlehem. 4th Estate, 2017.
Didion, Joan. South and West. 4th Estate, 2018.
Didion, Joan .Where I Was From. Harper Collins, 2004.

"eulogy". WordReference.com. Collins Concise English Dictionary © HarperCollins Publishers, 2019. Web. Accessed 20 November 2019.

Goggans, Jan. "California at the Point of Conflict: Fluvial and Social Systems in John Steinbeck's The Grapes of Wrath and Joan Didion's Run River." Interdisciplinary Studies in Literature and Environment, vol. 17, no. 1, Jan. 2010, pp. 5–22.

Zehelein, Eva-Sabine. "'A Good Deal about California Does Not, on Its Own Preferred Terms, Add up': Joan Didion between Dawning Apocalypse and Retrogressive Utopia." European Journal of American Studies, vol. 6, no. 3, Sept. 2011.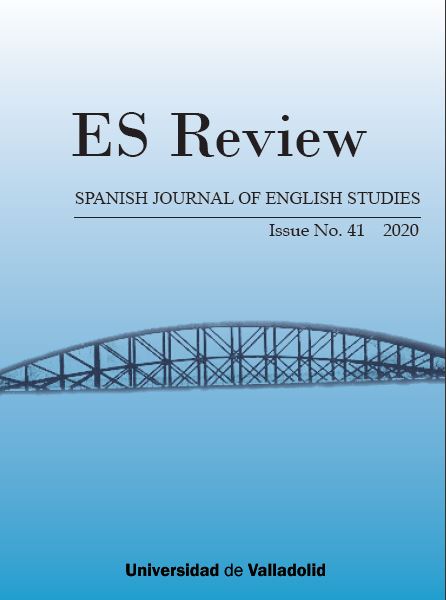 Copyright (c) 2020 Sofía Martinicorena
This work is licensed under a Creative Commons Attribution-NonCommercial 4.0 International License.
The articles published at ES Review. Spanish Journal of English Studies will have a "Creative Commons Attribution-Non Commercial" (CC-BY-NC) license.
The journal allows the authors to retain publishing rights. Authors may reprint their articles in other media without having to request authorization, provided they indicate that the article was originally published in ES Review. Spanish Journal of English Studies.