La Melhfa: Representaciones simbólico-culturales de la indumentaria femenina saharaui
Embarka Hamoudi Hamdi

Universidad Jaume I

Ana jiménez Adelantado

Universidad Jaume I
Palabras clave:
Melhfa, Mujeres Saharauis, Cosmovisión Saharaui, Cuerpo y vestido.
Resumen
Este artículo tiene como objeto explorar algunas claves simbólicas que se esconden detrás de la melhfa y que constituyen ejes fundamentales de la cultura y la cosmovisión saharaui. La melhfa es una prenda femenina, cuyo porte cuenta con una serie de connotación políticas y religiosas, pero sobre todo es un símbolo de identidad de la lucha por la causa del Sahara Occidental. Tiene que ver con la participación de las mujeres en la lucha y la aportación para que comunidad se desarrolle; así como, su propia proyección en foros, encuentros y celebraciones internacionales en los que participan. Porque la indumentaria de le las mujeres saharauis y del resto del mundo, puede convertirse en modelo de análisis para profundizar en las categorías culturales, religiosas y simbólicas de su vida y de su realidad cotidiana.  
Descargas
La descarga de datos todavía no está disponible.
Citas
Allman, J, ed. 2004a. Fashioning Power: Clothing, Politics and African Identities. Bloomington: Indiana Univ. Press.

Bengochea, M. 2013. "La movilización nacionalista saharaui y las mujeres durante el último periodo colonial español", pp. 113-128, en Revista Historia Autónoma.

Clarke, P.B. 1982. West Africa and Islam: A Study of Religious Development from the 8th to the 20th Century. Ed. Arnold Oversea

Callaway, L Creevey . 1994. The heritage of Islam: women religion and politics in West Africa. Lynne Rienner Publishers, Boulder

Caro Baroja, J. (2008, 1955), Estudios saharianos, Calamar ediciones, colección Sgarit, Biblioteca del Desierto, Madrid.

Comaroff, JL, Comaroff, J. 1997. Fashioning the colonial subject. In Of Revelation and Revolution. Vol. II. The Dialectics of Modernity on a South African Frontier, ed. JL Comaroff, J Comaroff, pp. 218-73. Chicago: Univ. Chicago Press.

Hansen, KT. 2000. Salaula: The World of Sec ondhand Clothing and Zambia. Chicago: Univ. Chicago Press

Hansen, KT. 2000. Other people's clothes? The international second-hand clothing trade and dress practices in Zambia. Fashion Theory 4(3):245-74

Hansen, KT. 2004. Dressing dangerously: miniskirts, gender relations and sexuality in Zambia. See Allman 2004a, pp. 166-88 Heath D. 1992. Fashion, anti-fashion, and he Hansen KT. 2000. Salaula: The World of Secondhand Clothing and Zambia. Chicago: Univ. Chicago Press

Hansen, KT. 2004. The World in Dress: Anthropological Perspectives on Clothing, Fashion, and Culture. Annual Review of Anthropology, 33, 369-392. Retrieved from http://www.jstor.org/stable/25064858

Maalouf, A. 1999 , Identidades asesinas, Alianza Editorial, Madrid
Martin, P. (1994), Contesting clothes in colonial Brazzaville. /. Afr. Hist. 35(3):401-26

Mustafa, HN. (1998), Sartorial ecumenes: African styles in a social and economic context. See van der Pias & Willemsen 1998, pp. 13-48.

Perani y Wolff, 1999, Cloth, Dress and Art Patronage in Africa. Oxford: Berg

Renne, EP. 1996. Cloth That Does not Die: The Meaning of Cloth in Bunu Social Life. Seat tle: Univ. Wash. Press Renne EP. 2000. Cloth and conversion: Yoruba textiles and ecclesiastical dress. See Arthur 2000, pp. 7-24

Renne, EP. 2000. Cloth and conversion: Yoruba textiles and ecclesiastical

Renne, EP 2004. Visions of sacred textiles in a Yoruba Aladura Church. In Yoruba Religious Textiles in Southwestern Nigeria, ed. EP Renne, T Agbaje-Williams.

Roach-Higgins, M.E.,& Eicher, J. B. (1992). Dress and Identity. Clothing and Textiles Research Journal, 10(4), 1–8. https://doi.org/10.1177/0887302X9201000401

Rovine, VL. 2001. Bogolan: Shaping Culture Through Cloth in Contemporary Mali. Washington, DC: Smithsonian Inst. Press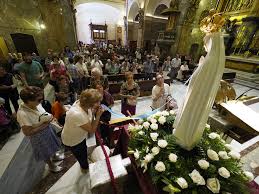 Derechos de autor 2020 Embarka Hamoudi y Ana Jiménez
Esta obra está bajo licencia internacional
Creative Commons Reconocimiento-NoComercial 4.0
.
Todos los trabajos publicados en la revista Journal of the Sociology and Theory of Religion están sujetos a una licencia "Creative Commons Reconocimiento-No comercial" (CC-BY-NC).
Los autores continúan como propietarios de sus trabajos, y pueden volver a publicar sus artículos en otro medio sin tener que solicitar autorización, siempre y cuando indiquen que el trabajo fue publicado originariamente en la revista Journal of the Sociology and Theory of Religion.